Why Argentina?
Argentina is as diverse as it is vast. This beautiful South American country captivates you with street tango, smelly "parrillas" (barbecues), soccer, gaucho culture, and the towering Andes. Bubbly Buenos Aires' seduces you with its terraced cafes, quiet parks, and avenues tinted purple with jacaranda flowers in spring. The ice fields are imposing in the south, while there is an interesting high plateau in the north.
The Argentines are excellent hosts whose vision of tourism makes this country one of the most sought-after destinations in Latin America and, without a doubt, an ideal place to learn.
Best time to visit
We have programs available throughout the year, since it can be visited at any time, except for the extreme south; the months of November to March are the best because of the long and hot days. The month of July is usually colder, but it matches winter vacations, continuing with the tourism activity in the country.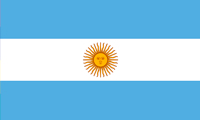 Population:
44,49 millions
Currency:
Argentine Peso (ARS)
Basic daily budget:
15 USD
*Variable according to personal expenses
Useful translations:
Hello > Hola
Please > Por favor
Thanks > Gracias