Why Colombia?
Colombia is the perfect combination of unspoiled Caribbean coastline and pristine Amazon jungle, accompanied by high Andean peaks adorned with cobblestone colonial towns and unique culture.
This wonderful country invites you to mingle with its history and culture. It has the second oldest and most mysterious city on the entire continent, the famous Lost City, which captivates anyone who dares with its historic architecture. The versatility of Colombia makes it a different and fascinating destination and, therefore, amazes thousands of visitors each year. Thanks to its excellent and innumerable tourist services, you will acquire a varied learning experience.
Best time to visit
You can visit Colombia year-round, being the high season between December and February. Between March and September is a good time for the Pacific coast.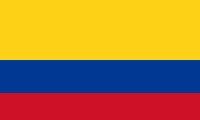 Population:
50,8 millions
Currency:
Colombian Peso (COP)
Basic daily budget:
20 USD
*Variable according to personal expenses
Useful translations:
Hello > Hola
Please > Por favor
Thanks > Gracias